A manifestation box is a super fun way to play with the law of attraction, and it's a technique that I've had a lot of instant success with.
In this article, I'm going to share what a manifestation box is, how to use it and why it's so powerful.
I have to share something with you guys that I tried and have had some amazingly creepy, fun results with. I recently acquired a small box that I call my manifestation box. I've been putting small intentions and desires I want to manifest into the box and they've all literally been manifesting; I'm obsessed!
How do you use a manifestation box?
I was browsing through some inspirational articles one night and stumbled across an interesting manifestation technique. The idea is to find a small box and make it special to you–infuse it with your love and energy, decorate it, anoint it with your favorite oil, maybe put a small crystal in it, etc. Whatever would make it feel sacred and special to you.
Next, you think of something you want to manifest and write it down on a small piece of paper and put it inside the box. Every day, you read the paper/s and imagine the dream happening, feeling how you would feel as if they had happened.
You then close the box and put it away, visualizing that the box is receiving the energy of the Universe in your absence and you let it go from your mind.
I love the concept of putting something out of mind while feeling that it's "being taken care of". I don't know about you, but I feel like I have a million folders open in my mind at all times. I'm always thinking about this and that, and how can I make this happen and what if that doesn't happen?
What I manifested using the manifestation box technique
I started by putting in a few different random, kind of vague-ish things that I would love to have happen, but wouldn't be bummed if they didn't. One of them was to have a blog post go viral and one was to receive amazing news. Two things that I don't necessarily need to happen, but I would just love it if they did. Oh my gosh you guys...
So every night the first week I looked at these little pieces of paper and just let myself fantasize for a moment about what it feel like to have a post go viral or to receive amazing news. I sat there with a huge, cheesy smile on my face and then put the papers back in the box, closed it and put it away. I envisioned a funnel of energy going to my box and allowed myself to forget about it.
That week my husband randomly asked me if I wanted to go to San Diego. We had just gotten back from California and our Disneyland trip. I'm obsessed with San Diego and it had been on my mind, but I figured it was out of the question until a later date since we'd just been to California. So to say I was delightfully shocked when he asked me would be an understatement. That was my amazing news!
Then, that same week (wish I could add dramatic music to this post) I had blog posts go live on both The Huffington Post and Scary Mommy, one day apart from each other. My blog stats skyrocketed, and let me just say it's very rare for an article to go viral on either of these sites, especially Huffington. I was just like "holy shit...it actually worked." And in ways I could've never guessed.
The following week I went to San Diego and published two usual, "non-exciting" blog posts. I didn't have anything in the works with Huffington or anyone else. I was like "There's no way I'm going viral this week or getting amazing news."
The day I got back from vacation, on a Saturday night, I got news from a friend telling me that Scary Mommy had shared my previous week's post from Huffington on THEIR Facebook page. Not only was that freaking amazing news, but once again, my blog stats went through the roof!!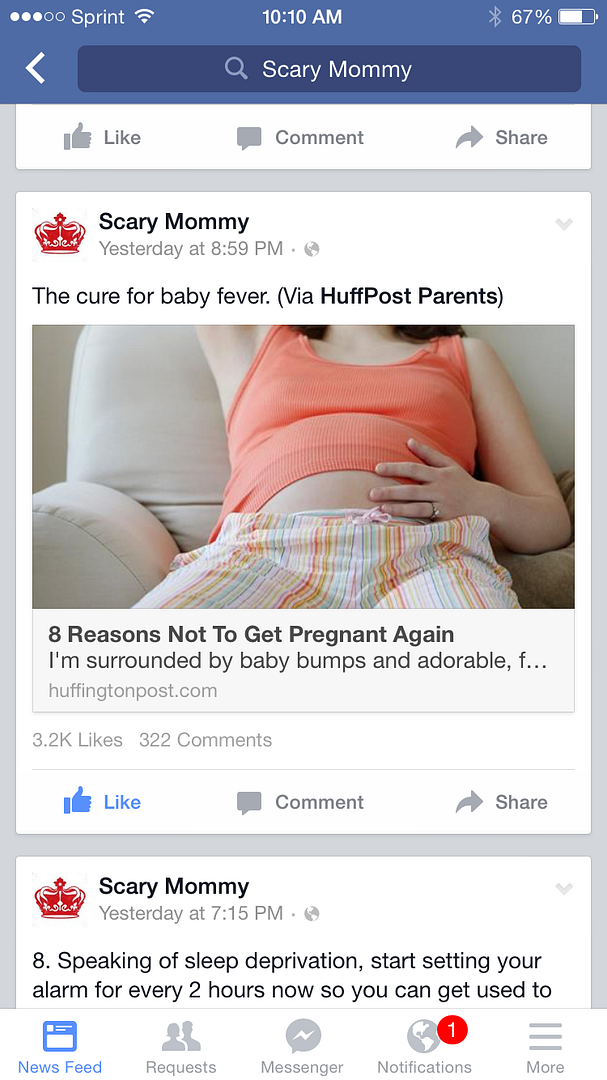 The following week, I had another post go totally crazy on Huffington, going to the front page of their site, being the featured story in Huffpost Weddings, and being shared on four of their Facebook pages, including their main one. A friend let me know again that it had been shared on multiple pages and took that screenshot for me. Amazing news, once again.
That's me and my husband arm-in-arm on the front page of the Wedding section.
Have I convinced you to try it yet? Find a special box similar to something like this and put a few intentions you want to manifest inside it. Let me officially recap the steps:
1. Find or create a small box.
2. Take a few little pieces of paper and write down some intentions. I didn't put more than two intentions in mine.
3. When you put the papers into the box, take a moment with each intention and just envision it actually happening. How would you feel? Would you call someone, shouting in excitement? Would you jump up and down and run through your house like a psycho? Totally pumped up and freaking out? The more emotion you can feel, the better. Do this for like 5 minutes a day.
4. After you visualize your intentions, put the papers in the box, close it and put it away with the intention that energy will be flowing to your box in your absence. The Universe will be taking care of the behind-the-scenes and will surprise you. You have no idea how it will happen and don't try to figure it out. Just go about your business as usual.
Why does a manifestation box work so well?
I think it works so well because it helps us let go of our desire rather than dwelling on the fact that we don't have it or haven't experienced it.
When you have faith that it's taken care of and you relax, are in an open, allowing state of receiving, paired with expectation that something exciting is going to happen...exciting things do happen.
This Universe we live in is a very abundant, giving universe. Things are rigged to go in your favor. You just have to believe that. That's way easier said than done, I know, but that's the simple bottom line. And what an amazing bottom line it is!
---
Thanks for reading, I hope you enjoyed this article. If you've ever used a manifestation box, definitely let me know in the comments below. I love hearing your manifestation stories!
For spiritual self-care tips every Sunday afternoon, you can sign up for the Dwell in Magic weekly newsletter.
If you'd like more real life examples of daily spiritual self-care, you can connect with me on Instagram.
And if you'd like more direct support and community with like-minded people, come join the Dwell in Magic Facebook group.
Lots of love,
Jessica
---
Jessica Dimas is the author of Anything Can Be: A Reference Guide for Applying the Law of Attraction. Connect with her on Facebook and Instagram for more inspiration and updates.
Latest posts by Jessica Dimas
(see all)