I've been reading one of Mike Dooley's books Manifesting Change (so good, by the way), and there's this one quote from his Notes from the Universe that really stood out to me:
"Invariably, when big dreams come true, and I mean BIG, there is a total metamorphosis of one's life. Thoughts change, words change, decisions are made differently. Gratitude is tossed about like rice at a wedding. Priorities are rearranged and optimism soars. Yeah, those folks can be really annoying.
You could have guessed all of that, huh? But would you have guessed that these changes invariably come about before, not after, the big dream's manifestation?
Invariably means always," - The Universe
First of all, isn't this so true? When you're on top of the world, you love everyone and the things you used to worry about seem completely insignificant to you. Imagine if we felt that same kind of love and optimism every day? Imagine what you could manifest being that joyful and carefree, being in a complete state of allowing and contentment.
One thing that stuck out to me in this quote was "thoughts change, words change", because when we get into ruts or are just in autopilot mode, it's so easy to let our thoughts and words slide. We think "I'll just complain real quick and it won't really have an affect on tomorrow" or we think negative thoughts in our heads, not paying attention to how much we're letting them affect our realities.
It makes me feel better in the moment sometimes to just be negative or cynical, and even if I do other vibrational work, like visualizing or making a gratitude list later in the day, it's not canceling the negative out; it's just sending mixed signals to the Universe.
And I get mixed results, naturally. And who wants mixed results? I don't. I love to stay in that amazing flow where good things happen back to back and I just feel in love with everything and on top of the world!
In order for good things to happen back to back and to feel in love with the world, we need to be disciplined in where we allow our thoughts and words to take us. It's worth investing the time to become aware and to stay on top of ourselves, because that's when the magic begins to pop up everywhere!
You guys already know I'm a worksheet whore, so yes, I made a new one. It's called "Invite Your Dreams In" and it's for whenever you need to get back on top of your mind game. If you've been complaining a lot, letting negative thoughts creep in, etc...use this worksheet to make a plan of action and decide what new thoughts you're going to focus on and allow into your mind.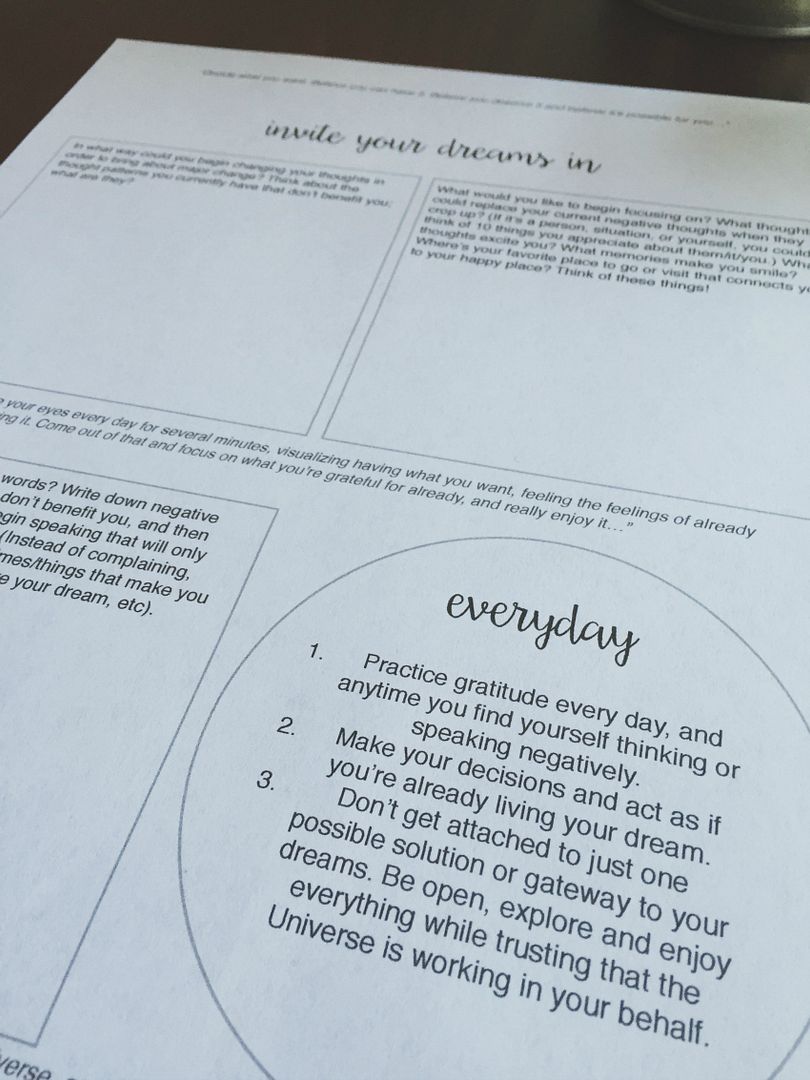 I also added one of my favorite quotes from Jack Canfield into the worksheet. It's like the perfect quote that simplifies EVERYTHING down to just: visualize what you want, feel as if you already have it, be grateful for what you already have, enjoy it, and then let it go and trust that the Universe will deliver.
Click here to access the worksheet.
If you love worksheets like this, my book comes with 9 of them: daily alignment, nightly re-centering, create a new dream, visualization guide, getting clear, discovering self-limiting beliefs, weekly/monthly check-in, hit the reset button, and just breathe. You can check out this post for how I organize them all in my binder. These worksheets help you put the law of attraction into practice!
So just remember, when things are actually tough and you want to complain, spend a minute doing so and then focus on changing your thoughts. Release the negative when you need to, but don't unpack and live there. Our thoughts and words create our tomorrows. Don't send mixed signals if you want spectacular results!
---
Jessica Dimas is the author of Anything Can Be: A Reference Guide for Applying the Law of Attraction. Connect with her on Facebook and Instagram for more inspiration and updates.
Latest posts by Jessica Dimas
(see all)