A morning self-care routine can make all the difference in how your day unfolds.
In this article I'm going to share my morning self-care routine and show you how easy and simple, yet powerful and transformative it can be.
My morning self-care routine
I'm pretty religious about my morning self-care routine. My nightly self-care routine helps me unwind and de-stimulate, and my morning routine helps set my mood for the entire day.
I don't consider myself a morning person, which really only makes my morning self-care routine all the more crucial–I take it seriously because I love feeling calm, relaxed, and centered.
It also helps to feel like I'm ahead of the day so that annoyances and irritations don't get to me like they would if I wasn't feeling grounded.
If you'd like to see snippets of my morning routine in action, follow me on Instagram and watch for my Insta stories. I frequently share my morning routine over there!
Prepare the night before
I have two kids, four and six years old, and they wake up early. So the night before, I cut up fruit for them and put it on a low shelf in the fridge, alongside other snacks and I keep breakfast bars in the pantry for them.
This way, I'm not bombarded first thing in the morning with two hungry kids.
Is there anything you do in the mornings that could be prepared for the night before so that you don't feel overwhelmed and rushed in the morning?
Avoid my phone
This is really, really big for me. Since I'm not a morning person, it's easy for me to roll over and grab my phone so I can scroll mindlessly through Facebook while I wake up. This starts me off on the wrong foot for so many reasons.
When I make the choice to scroll mindlessly through Facebook or Instagram or any other social media network, I allow the energy of others to affect my own energy before my day has even started.
Checking emails or work related stats can also cause me to feel overwhelmed and hurried before I've gotten out of bed. And the constant scrolling can even give me a slight headache.
There are just no positive benefits of checking my phone first thing in the morning, so I choose to ignore my phone for at least an hour or two.
The longer I stay off social media in general, the better my days are.
Create a sacred feel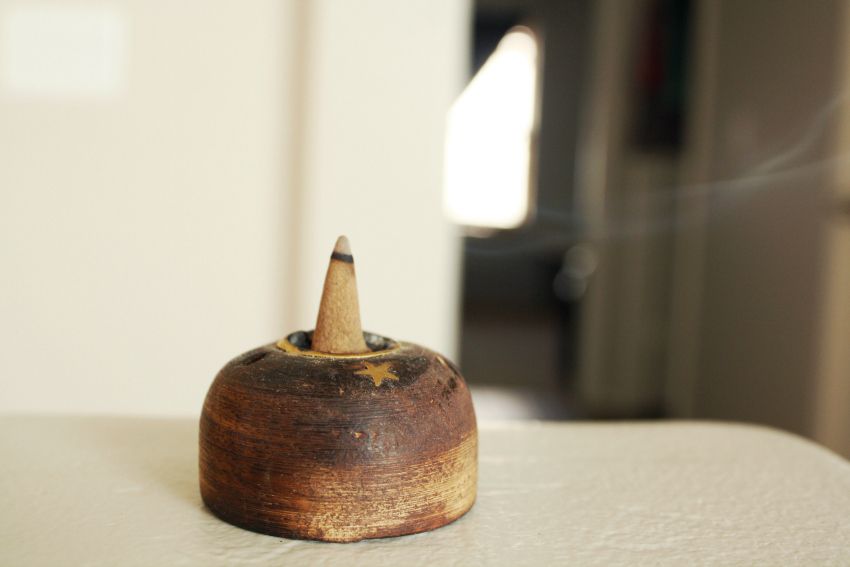 I love to burn incense. Every time I burn it, I'm doing self-care activities so the scent has become even more sacred to me. As soon as I smell it, it instantly calms me and puts me in the mood for self-care.
I also love essential oil diffusers and candles, anything to make my space smell more relaxing. I'm a huge believer in the power of aromatherapy.
I keep lots of essential oil sprays and roll-ons on my nightstand and will frequently reapply them throughout the day when I need a pick-me-up.
Enjoy a simple luxury
Coffee is what I look forward to in the morning. Whatever it is for you, make it a quiet, mindful practice every morning.
Buy the best ingredients and really savor it. It could be green tea, a smoothie, eggs and toast.
I love to buy cute coffee mugs just to make my morning a little brighter. It's just one more thing that helps me look forward to mornings, which is good because I'm a night owl and morning isn't my prime shining time!
Read from a daily inspirational book
I love reading a few pages out of inspiring books every morning. One of the books I like to read out of daily is Simple Abundance.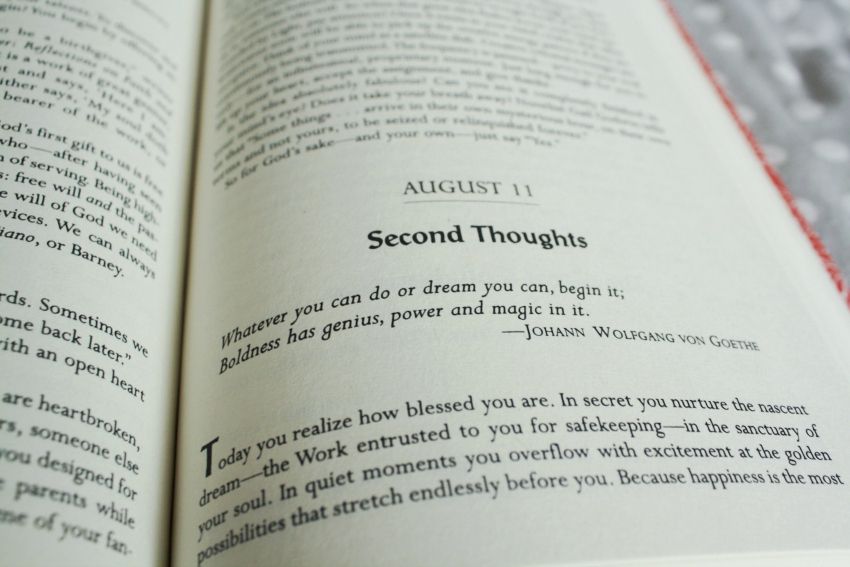 Another favorite read in the morning is Bella Grace Magazine. It's a magazine but I love it because they totally embody the spirit of sacred self-care.
You can also check out my post on my favorite daily books for self-care if you want to see my book rotation.
Morning self-care worksheet
Every morning I fill out a morning worksheet. These have honestly transformed my mornings because they're quick but powerful.
Sometimes I may not have time to do anything else, but I always have time to fill out a morning worksheet. They make such a difference.
There are several worksheet bundles to choose from that have a morning worksheet, so it really depends on what your needs and intentions are. I alternate between all of them.
Below are the ones I use:
✦ For moms: for parents wanting to start their day with a calm, positive mindset
✦ For mindset/manifesting: for setting your daily intentions and a quick visualization
✦ For witchy/more spiritual: this one is like the ones above but has a section for recording a daily card pull
✦ For entrepreneurs: this morning sheet focuses on mindset for business success
Yoga/stretching
The last thing I like to do is yoga or simple stretching. There are a ton of great videos on YouTube to follow along with but this one is my favorite yoga channel.
What I love about yoga is that it's so much more than just a physical exercise. It really helps you connect with that inner, still part of yourself.
Even so, when I don't have time for yoga or simply don't feel like it–I'll skip it. And I don't beat myself up about it!
Try to avoid perfection when it comes to any self-care routine. Even one activity from the above list will shift your day positively. 
The goal is simply to connect with yourself on some level.
---
To recap my easy morning self-care routine:
✦ Prepare the night before
✦ Avoid your phone
✦ Create a sacred feel with incense (or something else, maybe soothing music)
✦ Fully enjoy a simply luxury (coffee, tea, etc)
✦ Read one page from a morning book
✦ Fill out a quick but powerful morning worksheet
✦ Move your body in some way (stretching, yoga, exercising)
And that's my morning self-care routine. It takes about 30 minutes and transforms my whole day.
Do you have a morning routine and if so, what do you include in yours?
If you'd like more sacred self-care inspiration, connect with me on Instagram where I share my morning self-care routine on Insta stories.
If you'd like to stay updated on new self-care blog posts, you can sign up for the Dwell in Magic weekly newsletter, which I send out on Sundays.
Lots of love,
Jessica
---
Jessica Dimas is the author of Sacred Self-Care for Moms. Connect with her on Facebook and Instagram for more inspiration and updates.
I'm an advocate for self-love, discovery, and looking up at the stars to remember how vast it all is. I believe in the power of your mind, the power of self-care and the power of believing in the unseen. There is so much more to the story that we are just beginning to understand.
Latest posts by Jessica Dimas (see all)