Consistent self-care is a huge game-changer, so my nightly self-care routine is something I rarely miss. In this article I'll share what I do for self-care every night, even when I don't have much time.
I'm a mom of two young kids so I'm not someone who has hours to kill every day. I can do this routine easily and it makes such a powerful impact on my mood and emotional well-being.
I know a lot of moms say they don't have the time or they have other things to get done while their children are sleeping, but I have two responses to this kind of thinking.
One: everyone has time. Yes you do. Your phase of motherhood may be different, but you can definitely create 10-30 minutes every day where you focus on you.
And two, just like "cobwebs can wait because babies don't keep", the cobwebs can wait because mommy's happiness and health won't keep if she never deems herself important enough to take care of.
Rest and self-care are so important. When you take time to replenish your spirit, it allows you to serve others from the overflow. You cannot serve from an empty vessel. – Eleanor Brownn
The best time for me is at night after my kids are in bed, so I'm going to share my nightly self-care routine with you. My goals during this time are to de-stress and re-center.
Written out, this all sounds like it probably takes me hours, but it doesn't. Sometimes I do all of this in 20 minutes or even less.
Part one is my how I utilize my shower time and part two is what I do before bed.
My Nightly Self-Care Routine
Part One: The Shower
1. Low lighting
Firstly, I find it very soothing to have low lighting while I shower. Spending the day with two little kids is usually nonstop loudness, so a silent space with low lighting just helps me de-frazzle and relax.
I simply use a wax burner minus the wax, but I find the lighting is perfect for a bathroom.
I've also added LED string lights around the windows of my bathroom for added low-lighting.
Every night, my shower alone is enough to help me reset. With the low lighting I'm able to instantly feel like the world is being kept at bay while I just take time to breathe.
2. Audio inspiration
I love to listen to something inspiring while showering. We might not have time to read every day, but if we're driving or taking a shower, we've got some time to listen to something that lifts us up and out of our current perspective.
Currently I've been on an Esther/Abraham Hicks kick. And by currently I mean the last six years.
Esther Hicks "channels" a collective spirit she calls Abraham (very strange to some, I know) and talks a lot about how our thoughts and feelings affect our lives.
I think it's very beneficial to listen to anything that relaxes, re-aligns, or motivates you and for me, Esther always brings me out of my head.
My other favorite is The Mind Your Business Podcast. It's an amazing mindset podcast that's geared towards entrepreneurs, but you definitely don't have to be one in order to enjoy it.
3. Visualization & Deep Breaths
If I've had a particularly long day, I envision the shower washing away all the stress and mistakes I made. And every night no matter what, I like to take several deep breaths.
We forget to really breathe so much of the day. Did you know that we are designed to release 70% of the toxins in our body through breathing?
When you exhale air from your body you release carbon dioxide that has been passed through from your bloodstream into your lungs. Carbon dioxide is a natural waste of your body's metabolism. – (source)
There are surprisingly so many benefits of deep breathing, like releasing tension, pain, emotional problems, and strengthening your immune system.
Just stand in your shower and take several deep breaths. Work your way up to breathing in 7 seconds and breathing out 7 seconds, all through your nose.
Part Two: In Bed
1. Low lighting
I keep the theme of low lighting going since I really can't detest overhead lighting enough.  I hung up LED lights around my bed to give a softer glow to my room.
It's a bit hard to see but here's some pics: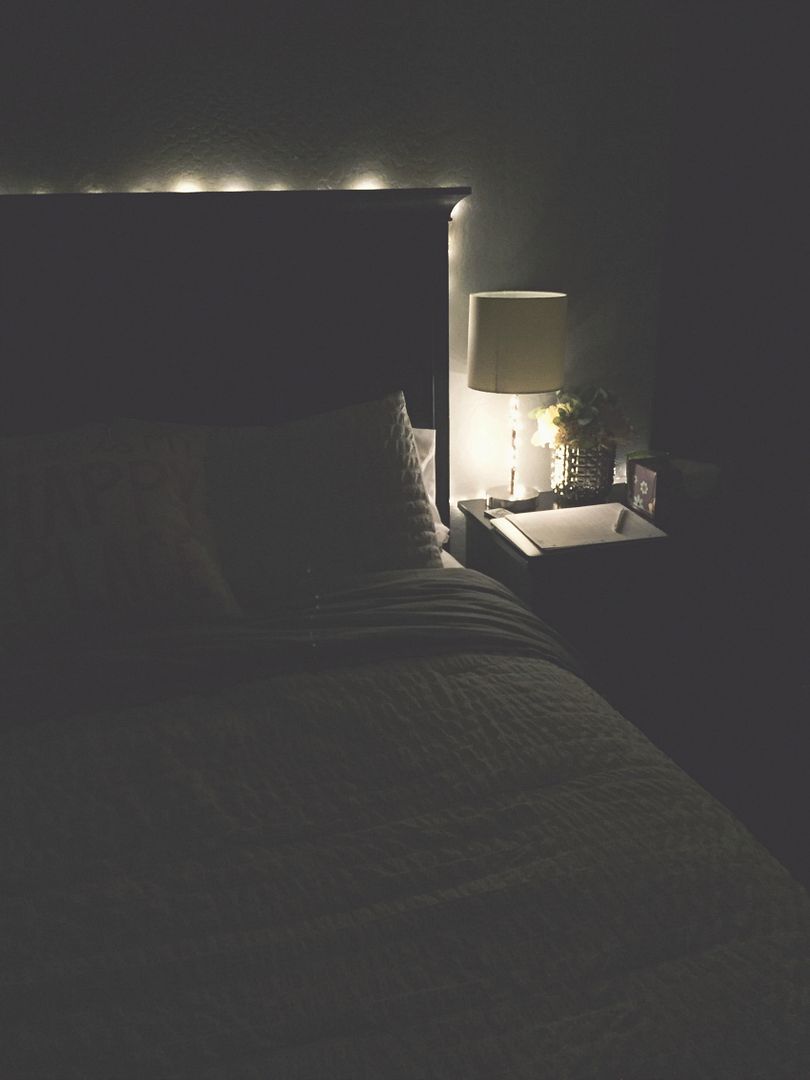 As you can see in the second pic, I've gotten way more creative with my self-care space. If you want to know how to create a sacred space for yourself, check out this post here.
That's the thing I love about self-care routines though–it's like following this delicious bread crumb trail; you're always going to be finding something else that deeply resonates with you and that you want to explore.
And all of it brings you back closer to yourself.
2. Self-care worksheet
Self-care worksheets honestly are the bread and butter of my self-care. I just find them so transformative because they're quick but powerful.
I will usually fill out either the self-care for moms Daily Recap worksheet or the Nightly Re-centering worksheet, which is more mindset based.
You know when you're pulling into a carwash and your tires have to align with the conveyer belt? That's what a self-care worksheet does–you simply and easily re-align with yourself.
A self-care worksheet is also the highlight of my morning self-care routine as well.
3. Reading 
Books that inspire us are so important and to me they're like air, but reading books of any kind have proven benefits of relaxation.
Most often my goal is to read just a page or two out of a book. You'll either end up reading several more pages than expected but even if you only read a page, you'll have likely gotten enough inspiration.
These are the current books on my tablet. Most of them I'm re-reading. I highlight powerful passages and then before I go to sleep, I'll re-read over the passages instead of reading the whole book.
I wrote a post on my favorite daily books for self-care and also my all-time favorite books for inspiration.
4. Meditation 
Lastly, I often fall asleep to a guided meditation. You can find a list of my favorite guided meditations here.
I mostly use the one by Vishen Lakhiani. It's 21 minutes long and a lot of times I fall asleep before it's over, but it's definitely my favorite guided meditation.
So to recap my nightly routine:
Wind down with low lighting
Make the most of your shower or bath; listen to something inspiring, take deep breaths, visualize the day washing away with the water
Create a sacred, relaxing feel around your bed; hang lights or use a salt lamp
Reflect with a self-care worksheet
Read a few pages from an inspiring book to shift your mindset and mood
End the day with a guided meditation
I hope you enjoyed this post! What are you favorite things to incorporate into your nightly self-care routine? I'd love to know in the comments below. I've also linked some other posts you might find helpful:
If you'd like real-life self-care inspiration, connect with me on Instagram where I share my daily self-care routine and rituals on Insta stories.
And If you'd like self-care tips in your inbox every Sunday afternoon, sign up for the Dwell in Magic weekly newsletter.
Lots of love,
Jessica
---
Jessica Dimas is the author of Sacred Self-Care for Moms. Connect with her on Facebook and Instagram for more inspiration and updates.
I'm an advocate for self-love, discovery, and looking up at the stars to remember how vast it all is. I believe in the power of your mind, the power of self-care and the power of believing in the unseen. There is so much more to the story that we are just beginning to understand.
Latest posts by Jessica Dimas (see all)