In this article I'm going to share my favorite items that I keep in my self-care toolkit. A self-care toolkit is simply a collection of tools that help ground, recharge and inspire you.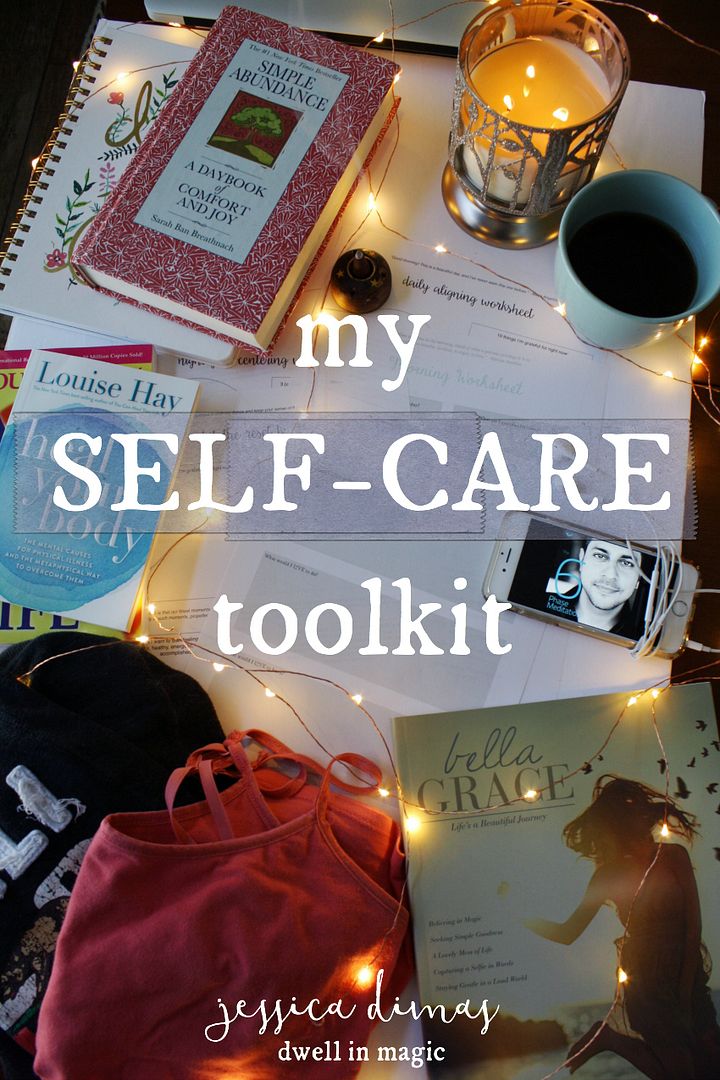 What's in my self-care toolkit
I was interviewed for a podcast recently and the host asked me a question I had never thought about before: what's in your self-care toolkit?
For me, being so hugely into self-care, it was a big question and I know I didn't answer it thoroughly enough when she asked. So I wanted to share here in this blog post everything I consider something I have in my "self-care toolkit."
It depends on the time of day (morning versus evening) and what kind of mood I'm in. If I'm feeling really good, the things I pull out of my self-care toolkit are going to be different than if I'm feeling frustrated, burnt out, or some other low-vibe energy. But there a few things I use every single day, no matter what.
Here's everything I keep in my "self-care toolkit".
Aromatherapy
No matter what time of day or mood I'm in, one thing that's super relaxing and calming to me is scent. I love anything from incense to lightly scented candles.
It's all called aromatherapy for a reason; scents can destress us and make our spaces feel more relaxed. It's such a small thing that makes a big difference.
During my morning self-care routine, I light a candle or incense and I do the same in the evenings for my nightly self-care routine.
Anytime is a good time for a space that smells cozy or relaxed. It instantly transforms the feel of a space.
Clothes that make me feel good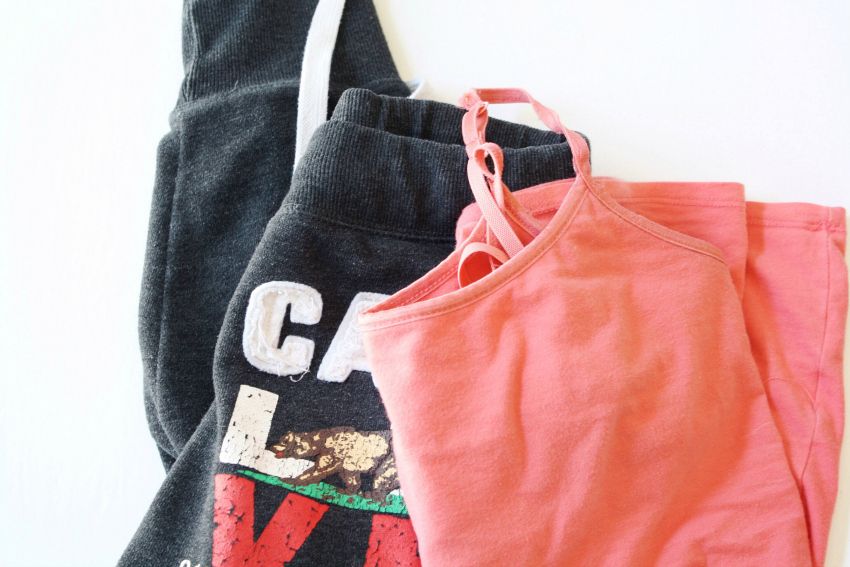 Some people might not realize how this could relate to self-care, but wearing clothes that feel good on the body and that also make you feel good are so important!
For much of my life, I didn't spend much thought on pajamas or "house clothes" because no one saw me in them. When I had a baby and a toddler, I was wearing dingy yoga pants and old tops because they were just going to spit up on them anyway and no one saw us all day, but I didn't realize how bad it was making me feel.
I love having a simple wardrobe of my favorite types of clothes, but speaking specifically about what's in my self-care toolkit, I definitely consider comfy, pretty "at home" clothes a must-have.
They make me feel good physically and they enhance my mood more than I ever realized was possible.
Instead of going crazy with a whole wardrobe overall, I'm simply pick up an item here and there when I'm at the store. Before you know it, you have a lot of cute options to choose from.
So simple but such a mood-changer.
My morning self-care trio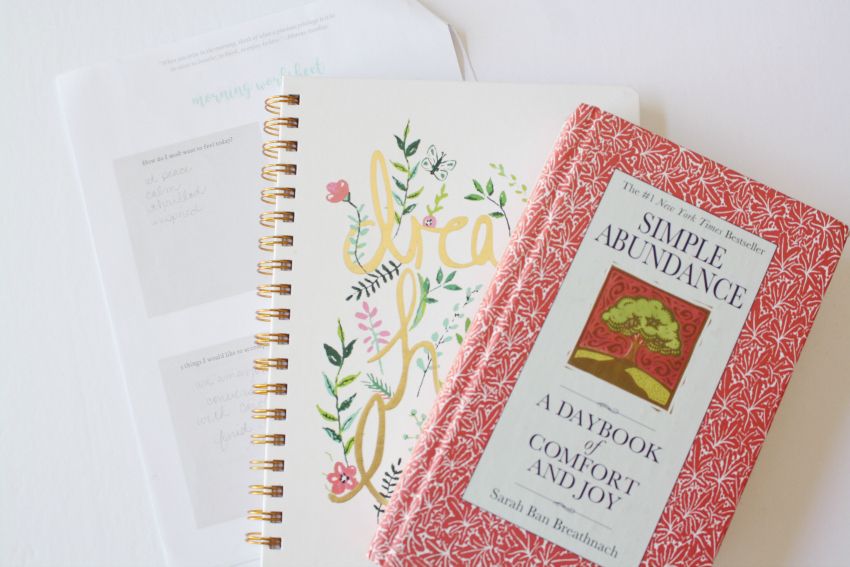 My current morning self-care routine consists of these three items.
I wake up, start the coffee, light some incense and then sit down with a self-care morning worksheet, a journal, and the Simple Abundance daybook.
I have two sons, 4 and 6, whom I homeschool, so this isn't all peaceful and quiet by any means, but while they're occupied with something else I take time for self-care.
Morning worksheet
Self-care worksheets are so extremely powerful and transformative while being quick and easy to do.
What I love most about them is that they are easy to incorporate into a self-care routine even when you don't have a lot of time, and they hit on all points to help ground and inspire you before the day starts.
If you'd like one, just browse through any bundle in my shop, pick the topic you're most interested in, and included in the bundle will be a morning worksheet.
The one pictured above is from the moon self-care bundle.
Journal
I usually only journal when I have too many thoughts flying around in my head that need to get out onto paper.
When I'm worried, confused, uninspired, irritated, etc; those are times I'm especially keen to journal because I get it all out and it stops haunting me as much.
I also journal when I want answers, because I'll always find them when I free-flow write.
Simple Abundance
I love this daybook because it's just a page of reading that's always inspiring and uplifting. It's a really great way to start your day with some higher perspective.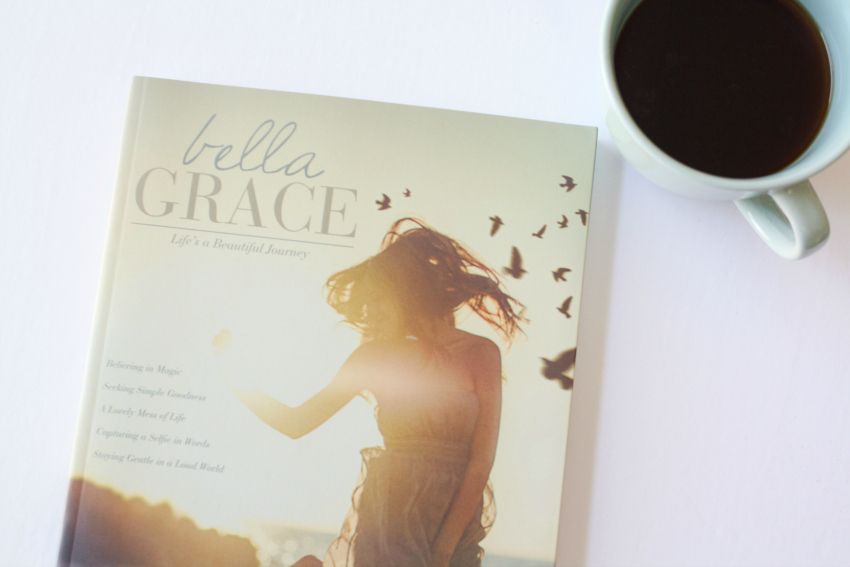 Bella Grace magazine is also another item I would highly recommend keeping in your self-care toolkit. I sometimes read a few pages of this in the morning or in the evening.
It's a $20 magazine but there are no ads and it's full of beautiful photography and quotes.
My passion
My passion; hobby, creative outlet, purpose, calling, mine…the thing that lights me up.
We all have it, even if we haven't really given it much thought to know what it is…but it's there.
I consider writing self-care for me because it allows me to express myself and to be creative. This website and the products I create are my passion, at least for right now.
I know it will be continually evolving as I evolve and grow, but it's the place where I can come and write, share and have something that's just mine, separate from my other roles in life.
Self-care is taking care of yourself. It's allowing yourself to be authentic and following the bliss of your heart.
Doing things that light you up and get you excited should definitely be apart of your self-care toolkit.
Healing & Inspiring Books
This is my most current list of books!
I think that inside every self-care toolkit should be books that heal and inspire you. They can be such a phenomenal way to readjust your mindset and bring you out of fear or anxiety.
I love to highlight my favorite passages the first time I read a book and then go back over those passages at other times. Sometimes we don't have time to read, but we can scan over a few powerful passages from books we've already read.
This is an excellent way to remember the magic that you've found in previous books and parts of your life.
You can also check out my posts for my all-time favorite books–I have one for my favorite self-care books and one for my favorite inspirational books.
Self-Care/Mindset Worksheets
The reason I love worksheets so much is because they bring me clarity, zen, and excitement in a short amount of time.
You don't need to go meditate in silence for an hour or have a long, elaborate self-care routine. You just need a self-care worksheet!
On days where I don't have much time for self-care, I will at the very least do my morning or nightly re-centering worksheet. They touch on everything important needed to help me reset and feel clear.
I create them for every worksheet bundle in my shop, so just browse through them, pick which one resonates the most with you currently, and add it to your self-care toolkit.
Inspirational notes + quotes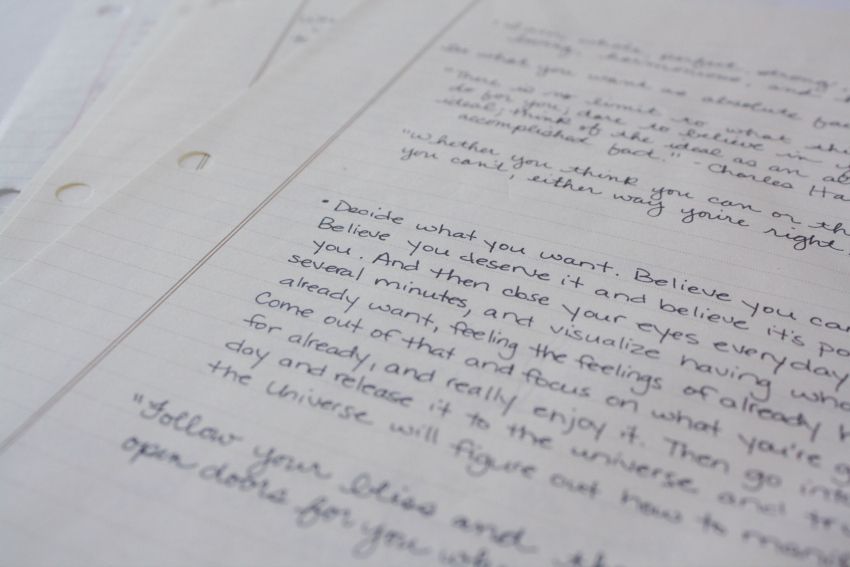 When I was first learning about the law of attraction and self-care a few years ago, my mind was blown. I took a lot of notes from books I was reading and podcasts I was listening to. I was in a really difficult place financially so there was a bunch of fear and uncertainty that was present in my reality.
I've kept these papers for the last several years because every time I read them, they remind me of how powerful I am and how magical our universe is.
Take notes when you're reading a book you love or listening to a very informative podcast where others are talking about inspiring, magical things, and then read over these notes anytime you're feeling scared, discouraged, or frustrated.
I don't read over these notes all the time, but like I said, when I'm feeling like life is happening to me, I re-read these notes before I go to sleep at night.
You can also check out this post on what I keep inside my moon self-care binder, which is where I've stored these quotes.
Pinterest // Vision Board

One thing I do for a very easy pick-me-up before going to sleep some nights is going through a vision board I've created on Pinterest. I LOVE Pinterest for all of the beautiful, amazing quotes and images.
I create a board and fill it up with anything that I'm currently dreaming about, or with quotes and affirmations that currently speak to me.
Sometimes I'll scroll through new content and just pin it to my board and other nights I'll simply scroll through my vision board.
This is a great self-care tool for those nights when you're just too beat to be any kind of intentional.
When I was in that scary place a few years ago and was at financial rock-bottom, I would go through my quotes on Pinterest most nights to get me out of that scared-feeling place and just fill myself up with only positive things.
So simple and yet so powerful.
Guided Meditations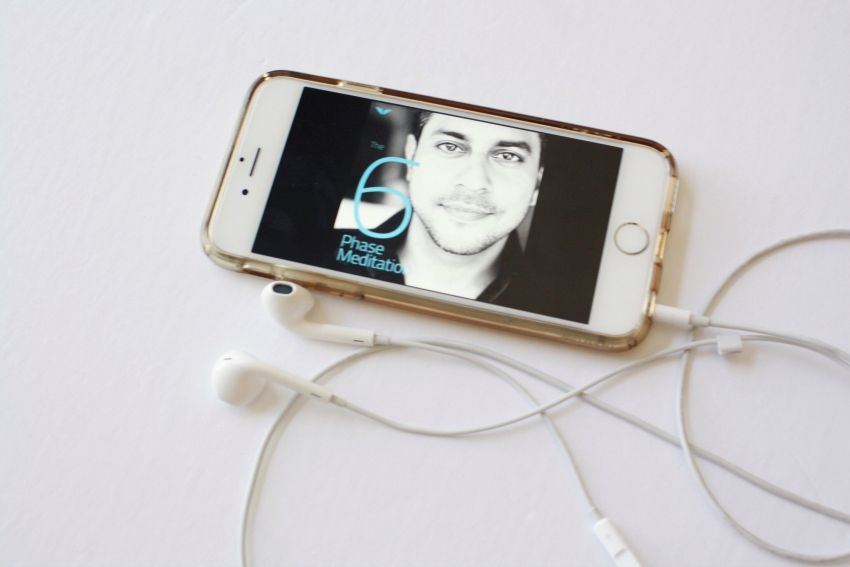 I wrote an entire post about my favorite guided meditations. My favorite is the one above, the 6 Phase Meditation. It touches on everything needed to manifest a beautiful, peaceful life.
Meditation will seriously transform your life in so many ways. It has helped me to have more inner peace, more manifestations and a higher perspective. I try to listen to a guided meditation every night.
Most are under 20 minutes long so again, they don't take up much time.
A peaceful, sacred space
I wanted to quickly share that I believe creating a sacred space is part of my self-care toolkit. This goes along with #1 and how scent transforms a space; little-to-no clutter and soft lighting are really helpful for me.
I purchased a few sets of LED string lights off of Amazon and can't recommend them enough. I have them around my bed and lamp bases and they create the softest, most beautiful glow.
It's also good to keep your space decluttered and simplistic. Energy can move and flow better when there isn't clutter.
You feel like you can just breathe better, as well as do everything else better within that space.
Two other things I use daily to make my space more peaceful is a free app called Relax Melodies, which I use for nature sounds and the binaural beats to relax or fall asleep, and a relaxing playlist.
---
What do you keep in your self-care toolkit? I'd love to know in the comments below.
For self-care tips every Sunday afternoon, sign up for the Dwell in Magic weekly newsletter.
If you'd like real-life self-care inspiration, connect with me on Instagram where I share my self-care routine and moon rituals on Insta stories.
And if you'd like more direct support and community with like-minded people, come join the Dwell in Magic Facebook group.
Lots of love,
Jessica
---
Jessica Dimas is the creator of The 7 Day Mini Manifesting Boot Camp. Connect with her on Facebook and Instagram for more inspiration and updates.
I'm an advocate for self-love, discovery, and looking up at the stars to remember how vast it all is. I believe in the power of your mind, the power of self-care and the power of believing in the unseen. There is so much more to the story that we are just beginning to understand.
Latest posts by Jessica Dimas (see all)